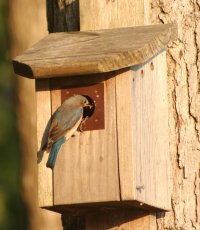 To order our birdhouses, please email us at ncwildlife@hotmail.com with the following information:

Name
Address
Phone # (needed in case we have questions about your order)
Quantity

OR pay securely online with PayPal:
Cost per birdhouse:
$29.95 (this price includes shipping)

We are a 501(C)(3) non-profit organization. We build our bluebird houses to help bluebirds, not to make a profit. We sell our bluebird houses at our cost plus shipping charges.
Do you live in the Warrenton, North Carolina area? If so, you can eliminate shipping charges by purchasing your birdhouses at our factory for only $10 each.